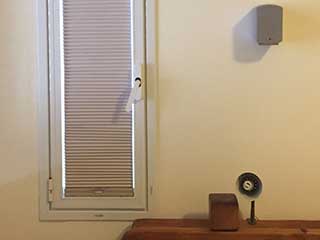 What could be better than enjoying the cool comfort of a living room adorned with Venetian blinds? These window treatments can do an incredible job of keeping the heat out. They can also add a great deal of decor to your living spaces. And wouldn't it be nice if these blinds didn't require you lifting so much as a finger to adjust them? Well, the wait for a solution that will automate window coverings has certainly been a long one. Nowadays, more than a few handy solutions already started to sprout, taking full advantage of the latest innovations of our current technological age. If you've been on the hunt to find a way of automating your window shades at the home or office, then these cutting edge products might be exactly what you're looking for.
Pre-installed Window Treatment Motors
The most common way to automate your blinds and shades involves having them custom made with motorization in mind. This is the most common way of taking advantage of this feature, but certainly not the only one. Motorized shades are perfect for those who want to use a tried and tested method. It does require you to have a completely new set installed, as opposed to altering your existing ones. Of course, the quality of your new electric blinds will surpass the previous ones. Read - better results and smoother operation.
The Internet of Things
The 'internet of things' is a term that refers to the way in which various household objects can be connected to the internet so as to enjoy additional functionality and connectivity. This particularly refers to communicating with your smart devices and using them as remote control platforms. Brand such as Lutron and Somfy have a plethora of motor and control systems specifically designed to offer users wireless control. With products like these, it is simple enough to operate your window blinds with a finger-swipe on your smartphone or tablet. They can even allow you to set time schedules that allow the blinds to operate themselves depending on what time of day it is. Many products also allow for voice commands, by syncing your motorized Venetian blinds with Alexa or Google Home, or some other virtual assistant program.
Self Adjusting Venetian Blinds
Another way to automate your window treatments is to connect their motor and control systems to special thermal sensors. These sensors will gauge the levels of light and heat in whichever room your blinds are fitted to. They will then instruct them to close and open depending on how cool or dark you want the space to be. This is one of the most effective ways of automating your Venetian blinds. It allows you to not even have to think about them. Everything will get done automatically.
Motorized Shades Are The Future
It's no mere coincidence that automatic window coverings are quickly becoming extremely popular. Integrating motorized shades with your smart home technology is usually one of the first steps new users take. And for good reasons. There's nothing like being to control a room's atmosphere and ambiance with the push of a button, or with your own voice. So, what methods should you use to automate your blinds at home or at work? No need to decide right now. Contact us at Santa Clarita Blinds & Shades and schedule a free in-home consultation to have an expert close to you provide answers to all your questions.