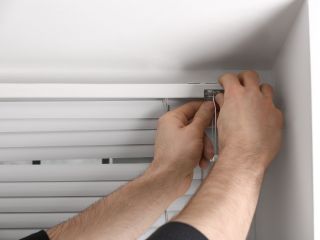 At Santa Clarita Blinds & Shades, we take pride in being the premier choice for all your window treatment needs in Santa Clarita. Our expert team specializes in providing professional installation and repairs, ensuring your windows receive the attention they deserve.
Services Offered:
Window Treatment Installation: Our skilled technicians are well-versed in installing a wide range of window treatments, from custom drapes and curtains to plantation shutters and faux wood blinds. We are your go-to window treatment installers near you.
Window Treatment Repairs: Trust us to breathe new life into your window treatments with our meticulous repair services. Whether it's roller shades, wooden blinds, or automated blinds, we've got you covered.
Why Choose Santa Clarita Blinds & Shades?
- Professionalism: Our team of experts is dedicated to delivering top-notch service, focusing on precision and attention to detail.
- Fair Prices: We offer competitive and transparent pricing, ensuring you get the best value for your investment.
- Punctuality: We understand the importance of time, and we always arrive on schedule, guaranteeing a hassle-free experience.
Window Treatments We Handle:
Custom Drapes and Curtains
Plantation Shutters
Faux Wood Blinds
Wooden Blinds
Cellular Shades
Woven Wood Shades
Motorized Roller Shades
And More!
No matter your window covering needs, Santa Clarita Blinds & Shades has a solution for you. We provide window treatment ideas that match your style and enhance your home's aesthetics.
Are you searching for "window treatment installers near me" or "blinds near me"? Look no further. We're your trusted partners in Santa Clarita for window treatments, blinds, and curtains. Contact us today for a free consultation and transform your windows into beautiful focal points of your home.
Don't wait; upgrade your Santa Clarita home with Santa Clarita Blinds & Shades!
Your Go-To Santa Clarita Blinds & Shades - Expert Installations & Repairs!