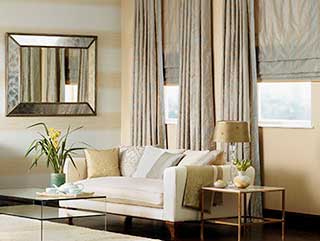 Roman shades are fancier than the basic roller or cellular shades, but not as ostentatious as bubble shades or elaborate drape systems. This style is usually best employed in bedrooms, foyers, studios, and other private and low-key environments that benefit from a high degree of sunlight protection.
The Basic Concept
Like roller shades, Roman shades are made from one sheet of material with a pair of string "tapes" running up the sides. Rather than rolling up around a spindle, however, Roman shades are pulled upward at many attachment points by their winding tapes, causing them to form a stack of folded, ribbonlike layers at the top of the window.
Variations on a Theme
The most basic type of Roman shades looks like a roller shade while closed, only folding into pleats when it's drawn open. In comparison, flat shades have constricting seams across each folding point and hobbled shades remain stacked in wider, looser folds even while closed, or have rigid panel backings instead of just relying on their tapes. These more rippled types keep out more light thanks to their stacked layers.
Matching the Colors
Like any of our custom made window coverings, Roman shades can be designed in the color of your choice. Hobbled and backed style shades tend to work best in dark colors, like maroon, purple, or black, to take better advantage of their sunlight-absorbing structure for bedrooms and the like. Sheerer Roman shades that let in more light can work in brighter colors as well, with cream and tan being popular choices.
The Finishing Touches
Some embellishments along the lower fringe of the shades can increase their aesthetic value, and also give you more options for light adjustment. Slits, tails, and scalloped bottoms mean that filtered sunlight can enter the room while the shade is in a slightly open position, and hanging tassles can break it up even further. Roman shades can also come in hand-drawn or cordless styles.
Contact Us for Shades
Roman shades can be custom made and installed the way you want them to be. Our team will be happy to assist with any questions or concerns that you may have with regards to your window coverings purchase. Call us today!