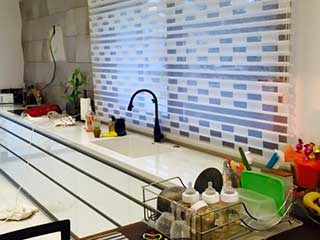 Choosing your new window treatments isn't always a fast process. Many people deliberate and contemplate their options quite a bit. They like one type of blind for one reason, but then disqualifying it for another one. The room you're thinking about also plays a factor. It determines certain criteria, like desired privacy levels, material choices, light filtering vs blocking, and so on. If you're looking for covers that offer easy adjustability and a versatile style that can change to match different needs, then our custom made sheer shades are definitely worth your consideration.
So What Are Sheer Shades?
Sheer shades are an elegant and sophisticated window covering option. They feature soft adjustable fabric vanes that appear as though they are floating between two panels of sheer fabric, which creates an ethereal look. These beautiful blinds diffuse harsh sunlight and bring a soft warm feel to the room. They work wonderfully in kitchens, living rooms, offices, and anywhere else you want to create a warm and welcoming atmosphere. As is the case with other types of window treatments, you can tilt the vanes and fully raise or lower the shades to achieve the level of light and privacy you desire. The fabric vanes make these blinds a great choice for homes that have pets and small children, as there are no slats that can be bent broken by paws or curious hands.
A Lot Of Variety
Apart from adjusting their openness level to suit your desired ambiance, sheer shades can also be customized in various other ways. You can opt for a mixture of colors, ranging from dark shades to bright ones. This allows you to give the filtered sunlight a tinge of blue, orange, green, or any other color you desire. This works especially well when complementing the decor nearby, allowing you to enhance it significantly with altered sunlight.
Add a Special Touch to Your Home or Office
Contact Santa Clarita Blinds & Shades and have a sit down with an expert near you. Our free consultation (which will take place at your home or office) allows us to introduce customers like yourself to a wide selection of sheer shades from brand names like Bali, Home Decorators Collection, and MyBlinds, in a huge variety of patterns, fabrics and colors. Don't forget to ask about our warranty and motorized shade options.