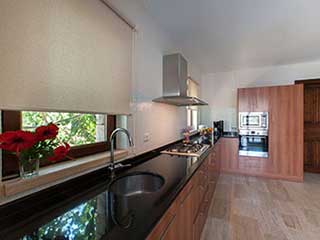 Some of the most popular window treatments on the market, roller shades are suitable for any type of window in any sort of building. The success of the roller shade is down to its simplicity, user-friendliness and nearly endless customizability.
The Basic Idea
As the name implies, roller shades open by being rolled around a rotating rod or spindle mounted above the window. Usually, the shade hangs down inside of the window frame and is kept straight and aligned by its boundaries, but others hang over the frame just inside the room. This simple and versatile setup can work with any thin material as long as it's flexible or finely articulated.
Something More Fetching
Basic cloth roller shades are perfect for bedrooms, living rooms, sparsely decorated waiting rooms and offices or other places where too much decoration might stick out overmuch. But that's only the basic version. Santa Clarita Blinds & Shades provides roller shades in all different colors and designs as well as bamboo, wood weave, and other nonfabric materials that turn the shade into a striking piece of décor.
Or Something More Functional
Aesthetic options aside, roller shades made in different styles and of unusual materials can have more practical functions beyond limiting sunlight entry and protecting your privacy. Solar fabric roller shades can let in full sunlight while keeping out the harsh glare and dangerous UV rays. Cellular or "honeycomb-patterned" roller shades are not only more interesting to look at, but also provide better heat insulation than just about anything else. All of our roller shades also come in hand-drawn and cordless styles.
Call and Order Your Own
Santa Clarita Blinds & Shades delivers custom made projects to your specification anywhere in city limits and provides expert installation services. Any purchase comes with a free consultation visit to help you make the most of your order, and all products come with a five-year warranty. Contact us today!