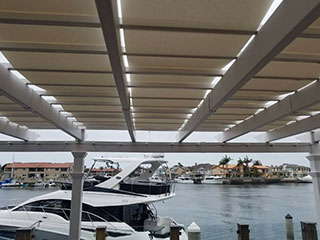 Protect yourself from harsh sunlight while outside in your outdoor lounge with a patio cover custom made for your needs. You've got more than a simple selection of designs here. Patio covers, motorized with smart remote controls, provide maximum coverage and protection as well as waterproof additions. You can add patio shades to various types of outdoor lounge spots including decks, gazebos, and porches. With freestanding patio covers, you can also add shade to open areas like gardens and yards. For the best deals on patio covers near the Santa Clarita area, you can turn to us. With free estimates on all types of covering solutions, we help customers find affordable, top-quality options for homes and businesses alike.
Shade Sails – Stylish Solutions
You can choose to get freestanding patio covers in the form of shade sails. These can attach to specific points and spread over an area to provide coverage and shade. Sails for your Santa Clarita patio also contribute to the aesthetic. You can get shade sails in different colors and designs to complement the hardscape or hardwood. For open gardens and backyard patios, shade sails provide an open freestanding patio cover perfect for atmosphere and minimalism.
Pop Up Canopy Tent For Decks & Patios
For something with more well-rounded protection on all sides, consider getting a pop-up canopy tent. These freestanding patio covers provide a pavilion-like shade. They add a cool looking aesthetic to the area, making them great for garden parties, BBQs, and various social gatherings. For lawns and open yards, freestanding pop-up canopy patio shades offer a fantastic choice, at very low costs. Many customers choose freestanding patio shades as additions to attached covers. Whether you've got a pergola with a motorized canopy or just a small deck, adding patio shades, attached or freestanding (or both) can improve décor tremendously.
Motorized Patio Covers
For more sturdy and sophisticated solutions, consider getting motorized patio shades installed. Santa Clarita backyards and outdoor lounges can really dial it up a notch when it comes to décor with motorized patio covers. With remote control features and the use of Wi-Fi, your motorized patio shades can serve you on a daily basis with no issues. Push the button and the motorized shades for the patio will roll out to cover the designated area. With custom made motorized patio covers, you ensure complete protection with no annoyance from missing spots or gaps.
Santa Clarita Patio Shade Installers Near You
Find out all about the different design choices and various remote control features you can get for your patio covers. Our local team helps customers find patio shades that suit their needs perfectly. From covering small patios with an attached overhead canopy for the deck to motorized awnings to complete a cover. You can choose all sorts of patio shades to suit various purposes. Get in touch with us to find out more. Schedule a free estimate and see what sorts of patio covers you can add to your Santa Clarita home or business.