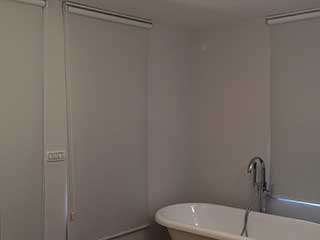 Motorized means no more needing to manually deal with any tangled cords or struggling to get everything looking even! These electric blinds were quickly integrated into smart home technology (one of the first features to be introduced, actually). Nowadays, you have the ability to not just control your motorized shades using a remote, but also by issuing voice commands to virtual assistants like Alexa and Google Home.
A Sleek & Modern Look
Roller shades are one of the most versatile types of window coverings available today. Being made out of cloth allows them to be endlessly customizable. Whether you want blackout or light filtering curtains or a certain color or pattern to match the style of the room, it's all possible. On top of that, thanks to the motorized function, there won't be any annoying cords to deal with. This is an even greater benefit when small children are around. Getting childproof shades will be a must in that case.
Improve Your Energy Efficiency
While it might not seem like it, motorized shades can do a lot to help keep your energy bill lower. That's right, even though they themselves use electricity (unless they're solar powered shades). Self-adjusting window treatments will make it easier for you to maintain a desired indoor temperature. They'll help you keep the room warm during winter and keep heat at bay during summer. Heat is naturally drawn to cold areas, and the glass of your windows can suck up the heat and expel it from your property.
Why Should I Care About Thermal Efficiency?
The insulation in your walls keeps them from allowing heat to escape, but windows require a different type of covering! Various types of shades will help with that, with some doing a better job (cellular shades) than others. When the process of covering your windows is automated or runs on a set schedule, your energy efficiency will be greater. You can forget to lower the shades, but your motorized system won't.
Why Wait Any Longer?
It's time to give your household an upgrade and help improve its insulation and automation in the process! Schedule a free consultation with one of our experts at Santa Clarita Blinds & Shades and learn about the range of benefits motorized window shades can offer you.