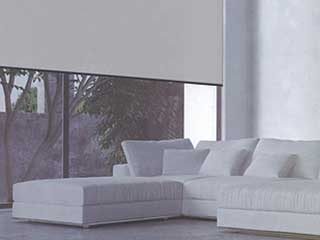 We offer an impressive range of choices for blackout blinds that can suit any Santa Clarita business or residential property. Cover any window with high-quality material that guarantees protection from the sun, as well as from prying eyes. We give you total control over the creation process, with the power to choose the color, style, material and even the operation method of your new blackout blinds. That's what makes us the go-to company for blackout blinds in the greater LA area, and around this part of Southern California in general. All of this quality comes at a very reasonable price, too. You'll never have to spend top dollar for top quality since our low prices make our blackout blinds affordable. Why not find out more today? Santa Clarita Blinds & Shades offers free consultations throughout the local area. Our representatives are always happy to visit you, so why not get in touch for a free appointment?
Quality Blackout Blinds For Santa Clarita Businesses
We offer custom window coverings for any purpose or place. That means we provide high-quality blackout blinds for commercial properties, as well. With a short consultation, it'll become clear to see how our office window blackout blinds can benefit your commercial establishment. Don't expect your employees to put up with eye strain and headaches from dazzling sunlight. Provide a comfortable working environment that protects against the glaring sun, and you'll get the best out of your workers. Make uncomfortable meeting rooms a thing of the past by installing blackout blinds. With our custom design options, it's easy to find an unobtrusive, professional-looking style for your new window coverings. Arrange a free estimate on blackout window treatments anywhere in the Santa Clarita area today by contacting our team.
Cheap Deals On Residential Blackout Blinds
Our prices for custom blinds are the best around, and it's easy to find the most suitable covers for any window in your house. We offer blackout blinds for French doors, which are custom-made to ensure they never get in the way. Our specially-made bedroom blackout blinds bedrooms are also an exceptional fit. Thanks to the many different options we can offer, it's easy for you to create a set of window coverings that precisely match the design of your bedroom. We even provide dedicated blackout blinds for skylights. No matter what size of window you want to cover, you can be sure that we offer the ideal solution. Why restrict yourself to just imagining your new window coverings? Go ahead and get in touch with Santa Clarita's leading room darkening window treatment experts to learn more.
Electric Blackout Blinds Options
Our great prices extend to modern remote control blinds as well. You can add an amazing edge of convenience and security to your home by installing blackout blinds with motors. These are easy to integrate into any home, with wired, wireless and solar power options on offer. The utility benefits make these window treatments the perfect choices for a wide range of reasons. Motorized blackout blinds give you the utility of complete sunlight control with the convenience of remote control operation. What could be better than easily opening or closing your blackout blinds with just a press of a button or a tap on your smartphone? Find out how cheap motorized blinds could turn out by contacting our Santa Clarita window treatment specialists for a free quote.
Affordable Blackout Blinds For Bedrooms, Skylights & More
Get the best rates on new room darkening window coverings around. We offer amazing custom shading products at unbeatable prices, so get in touch today to get a free estimate. Our team here at Santa Clarita Blinds & Shades is always on hand to provide in-person consultations. See our wide range of choices for blackout blinds (motorized, vertical, etc) and pick the design, colors, and materials that suit your needs and budget best!