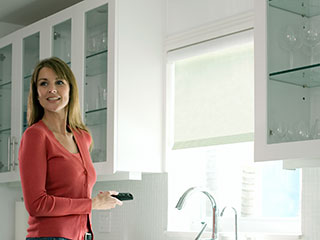 Choosing to get remote control blinds with smart features and quiet motors offers a lot of benefits. You can maximize your property's energy efficiency with motorized blinds or shades that let you automate their function and utilize natural lighting much better. Motorized shading solutions can suit different rooms in different ways, and the creative designs can add wonderful decorative looks to emphasize a room's qualities, while still benefiting from easy-to-use window treatments with remote controls. As the leading Santa Clarita area motorized blinds installers, we offer customers the best prices and a wide collection of styles to suit homes, offices, and other businesses.
Motorized Smart Blinds For Home/Office Windows
With the use of modern advanced technology, remote control window coverings can now exercise various automation protocols. Smart blinds give you the option to incorporate motorized window treatments into the smart home or workplace system. With a Wi-Fi connection, you can automate window coverings to open and close at optimal times, letting you maximize your use of sunlight for better indoor climate control and illumination. This excellent energy efficiency optimization method can save money on electrical lighting and HVAC efforts in the long run.
Somfy Blinds and Lutron Shade Solutions
Using the top brands on the market gives our custom made motorized blinds and shades a real edge. With smart controls from Somfy and the high-tech solutions by Lutron, motorized blinds, rolling shutters, and all sorts of airy sheer window shades can utilize remote control technology to their advantage. Making use of different temperature and brightness sensors gives Santa Clarita's best motorized blinds a huge benefit, and lets you enjoy a pleasant indoor ambiance throughout the day. Using smart blinds controls can also let you use tablets, phones, and other network devices to draw the shades from anywhere.
Get Free Quotes on Motorized Blinds For Santa Clarita
Let the professionals help you find the best choices for new automatic window coverings for your home or business spaces. With advice and recommendations from our experienced motorized blinds experts in Santa Clarita, many customers create custom made shading solutions with remote control features they love. Let us help you find new smart motorized blinds or shades for your business or residence. Book your free consultation to get a quote on any motorized shading products you like.