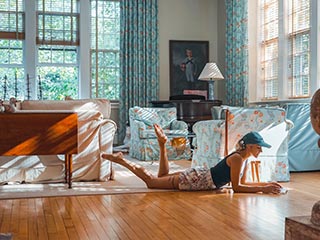 Staying true to their older origin, modern Venetian window blinds have a lot of contemporary conveniences to offer without forsaking their beloved aesthetic. Many are familiar with the design of Venetian blinds as one of the most ubiquitous window treatments that exist today. But while these covering solutions to date back to previous centuries, they have managed to maintain their usefulness while still combining modern technology and décor.
Motorized Venetian Blinds – Custom Choices
The popularity of remote control blinds for windows continues to grow and many are picking motorized window treatments of some kind as their new solutions. Venetian motorized blinds have the privilege of combining the old world with the new, incorporating a familiar and traditional aesthetic with remote control features and wireless connections. Motorized Venetian blinds can let you opt for more classic shading solutions for Santa Clarita residences or business spaces, while still enjoying smartphone and IoT connectivity.
Blackout Venetian Window Blinds
As a go-to for bedroom windows, blackout Venetian blinds provide a way to optimize your sleep, and as a result, your health and daily routine get a boost. Sleep is hugely important for many facets of our lives, not the least of which is our well-being. With blackout Venetian blinds on your Santa Clarita windows, you can control lighting levels precisely. Meaning, if you need to sleep, you can get rid of all sunlight or streetlight from outside with the overlapping vanes of blackout Venetian blinds. Motorized to work with remote controls and smart devices, automatic Venetian window treatments will enhance your lifestyle to ensure you never miss a good night's rest.
Better Deals on Venetian Blinds in Santa Clarita
You have a variety of choices when it comes to opting for Venetian window blinds, and we're here to make sense of everything and provide recommendations that will ensure your complete satisfaction. Consult with our professionals to create the optimal custom made Venetian blinds, motorized or manual, for your Santa Clarita windows or other fixtures. Set up your free estimate to have an expert meet you for an in-person consultation at your chosen address!