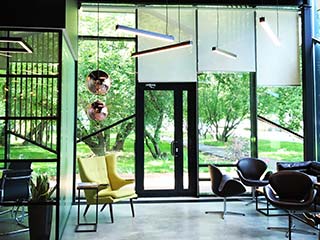 Lutron wireless smart shades do more than simply improve the aesthetics of the room they're installed in. They also improve energy efficiency, because they make it incredibly easy to maintain your property at a comfortable temperature. Custom-made window coverings mean you'll get total control over the exact size of each shade, so there's no way for sunlight to escape around the edges. In addition to all this, Lutron motorized shades offer a huge selection of control options, incorporating WiFi connectivity and remote controls. Thanks to all the different styles that you can choose from, there's no end to the amazing designs you can create with Lutron shades. As Santa Clarita's leading source, we're the place to come to when you want a free consultation on all motorized shade products.
Why Motorized Window Shades Are Ideal
Lutron shades bring much more than just simple convenience to your property. Of course, having remote control window shades that you can adjust with just the press of a switch is incredibly convenient. But there are many more benefits. In fact, you can completely ignore the Lutron shades controls and let them activate themselves automatically. With special temperature and light sensors, Lutron shades can adjust themselves to exactly the right levels to maintain a comfortable atmosphere in your property at all times. Don't think about it at all, just let the motorized window coverings do all the work for you. The advantage to this is that your property will stay at a comfortable temperature throughout the whole day without you having to constantly adjust light levels. You'll save money on climate control because your Lutron shades will do the job for you without costing a penny.
Best Lutron Shade Systems in Santa Clarita
For both homes and businesses, Lutron shades offer a brilliant way to upgrade any property with convenience and quality. In addition to cutting-edge automation systems and wireless remote functionality, these window coverings look very beautiful. With Lutron shades, you get access to a massive range of styles and designs, made-to-measure for each of your windows. To get started, explore the full range of motorized Lutron shades options that we can provide. Find out more by scheduling a free consultation with our Santa Clarita motorized window covering specialists.