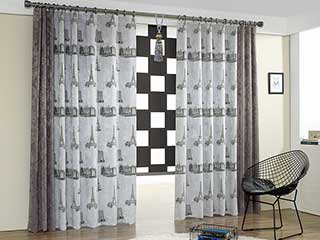 So you've decided that you're going to get new window treatments? Great! But with so many options out there, you may be unsure about what to do next. For starters, maybe you're confused about the difference between blinds and shades. If you are, don't worry. There's a good reason for this. These terms are often used interchangeably, although technically they're slightly different things. Hopefully, this short guide will help bring some clarity.
What Exactly Are Blinds?
Blinds are made of hard materials such as aluminum, vinyl, PVC and real or faux wood. Venetian blinds are the best-known type. They're available in slats of varying widths from the ½-inch size, which are a favorite complement to contemporary decor, to the wide 2-inch size. These window coverings can be hung in a vertical or horizontal position. This allows them to be opened from the side, as is common with sliding doors, or from the top to the bottom and vice versa depending on your preference. One of the major advantages of blinds is their multi-purpose build. The need for natural lighting doesn't mean a complete loss of privacy since the slats can be opened partially without completely exposing the window.
What Makes Shades Different?
Shades offer a huge variety, mainly because there's almost no limit to the fabric that they can be made from. You can get them in natural fabrics like cotton, linen, and even luxurious silk. And if you're working on a budget, you could also consider having them made from synthetic material, or even repurpose your old curtains. Shades are also incredibly versatile because you can use textured materials. They can also be hung in a range of styles, with the most popular ones being the Roman-style and roller shades. One of the key advantages of shades is that they offer countless options for controlling light. You can get anything from sheer to blackout fabric. In some instances, these window coverings can even help better insulate your home. Cellular shades are especially good for this purpose.
Where Do Bamboo Blinds Fit In?
Window coverings made from bamboo and other woven grasses like jute fit into the roller blinds or roller shades category. They're a bit of a hybrid since they are made of hard materials, but because they are pliable, they work more like shades. Layered shades are another example of window treatments that offer the best of both worlds because they allow you to control light without compromising on privacy in the same way that blinds do, and they can roll up like shades, but can also be adjusted on a loop to place opaque vanes over sheer ones, or vice versa.
Still need some help or more information about blinds and shades? Schedule a free consultation with a window covering expert near you.