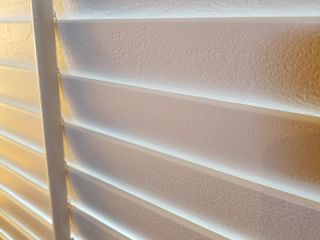 Are you looking to transform your living space with the timeless beauty of wooden blinds without the maintenance of real wood? Santa Clarita Blinds & Shades has the perfect solution for you - our exquisite range of faux wood blinds. With our wide selection, expert installation, and valuable advice, we make it easier than ever to elevate your interior while enjoying the benefits of these stylish and functional window treatments.
Benefits of Faux Wood Blinds
Faux wood blinds are a popular choice for homeowners and businesses alike for several compelling reasons. Their appeal lies in their durability, affordability, and easy maintenance, and they are an excellent alternative to traditional wooden blinds and other window treatments. Here are some of the key advantages:
Durability: Faux wood blinds are resistant to moisture and humidity, making them ideal for kitchens and bathrooms. They won't warp, crack, or fade, ensuring they look new for years to come.
Affordability: Enjoy the aesthetic appeal of real wood without the high cost. Faux wood blinds are budget-friendly while offering a similar appearance and style.
Low Maintenance: Say goodbye to extensive upkeep. These blinds are easy to clean and require minimal care, making them a practical choice for busy households.
Customization: Our Santa Clarita Blinds & Shades team offers a wide range of finishes, colors, and textures to match your interior design, giving you complete control over your window treatment's look.
Insulation: Faux wood blinds provide insulation to help regulate your indoor temperature and reduce energy costs.
Motorization with Top Brands: Somfy and Lutron
Enhance your window treatments with the convenience of motorization. At Santa Clarita Blinds & Shades, we offer automation options for your faux wood blinds, using industry-leading brands such as Somfy and Lutron. Experience the ease of controlling your blinds with the touch of a button or through smart home integration, ensuring your space is always comfortable and stylish.
Our Services
We pride ourselves on providing comprehensive window treatment services tailored to your needs:
Free Consultation: Our experts offer free consultations to help you choose the right faux wood or wooden blinds for your home or business, taking into account your unique style and requirements.
Professional Installation: Our experienced team ensures that your blinds are installed securely and with precision, so they function flawlessly and look stunning.
Interior Design Ideas: Need inspiration? We're here to provide you with ideas and advice on how to choose the perfect window treatments for your space, whether it's residential or commercial, indoors or outdoors.
Visit Us Today
Santa Clarita Blinds & Shades is your one-stop destination for high-quality, affordable faux wood blinds, wooden blinds, and more. Elevate your interior with the beauty and functionality of our blinds. Contact us for a free consultation and explore the possibilities of transforming your space.