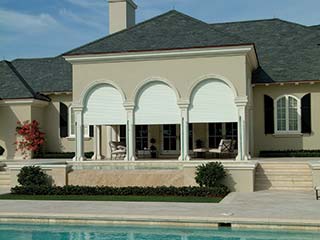 After the creation of the first motorized rolling shutters for windows, smart blinds have advanced in gigantic leaps. Nowadays, thanks to Somfy smart blinds solutions, we can add motorized window coverings to big and small surface areas, with all sorts of advanced technological features to make operation easy and efficient. Smart motorized blinds and shades can help you better control the indoor climate and save money on energy by utilizing natural light to the fullest. As the leading Santa Clarita Somfy blinds installers, we help customers pick the best combination of aesthetics and features for their specific needs.
Blackout Blinds Motorized
In bedrooms, it's important to have not only privacy but also excellent conditions for sleep. If you've got windows pouring streetlight or sunlight into the room, you'll find sleep extremely challenging, if not impossible. Even if you do manage to catch some shut-eye, the presence of light will have it be subpar sleep, leaving you groggy and tired throughout the following day. Motorized Somfy blinds with blackout options create the total darkness you need. These blackout window treatments will darken your Santa Clarita bedroom to optimize your sleep, and also ensure your privacy in the process.
Motorized Roller Shades – Sheer Solutions
For sunlight diffusion with Somfy shade solutions, motorized sheer roller shades offer you beautiful designs and an excellent way to control sunlight. Too much direct sunlight can cause damage to wallpaper and furniture, as well as to your eyes. However, sheer shades, utilizing Somfy controls for maximum efficiency, will diffuse sunlight and soften it to make it pleasant and not harmful. This lets you brighten up living rooms, kitchens, and more with remote control shading solutions offering partial or complete opacity.
Motorized Somfy Blinds – Santa Clarita's Best Choice
There is a huge range of solutions that Somfy motorized smart blinds can provide. You can integrate these remote control window treatments with your smart home system too, optimizing energy efficiency and the use of natural light. Find out more about Somfy blinds for Santa Clarita area properties with a free estimate from our experts. We'll go over all the features and options Somfy motorized shading solutions have to offer and which work best for your budget and specific requirements. From motorized awnings and outdoor patio covers to Roman shades and remote control vertical blinds, Somfy has the solutions to optimize any window treatment option. Get in touch with us today and schedule a free in-person estimate!