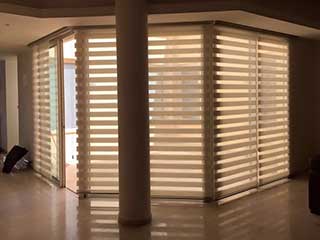 Any workplace can benefit from some well-chosen and fitted window treatments. In addition to creating a more pleasant space for workers and patrons alike, blinds and shades can help with management and reducing maintenance costs.
Aesthetics and Atmosphere
If you're running a restaurant, lounge, or other service industry establishment, it's important to create a relaxing, visually appealing environment that will keep patrons returning. Some brightly colored or patterned cloth shades, or even woven bamboo may do nicely. For a consulting or therapy office, hominess is key; maybe some heavier, plainer, and softer shades or drapes. For a more institutional setting, blinds might be a better bet.
Blocking Unwanted Light
All window coverings protect the privacy of people inside the building and limit the amount of light that gets in, but there's room for a lot of nuance within those fields. If you want a well-lighted space but are worried about damage to furniture or skin, some polyester solar shades are a top suggestion. If you need an adjustable level of illumination to keep you or your employees comfortable without making computer monitors harder to see, go for layered shades or Venetian style blinds.
Insulation and Heating Bills
Windows are thinner than walls, and glass conducts heat with unfortunate ease. Instead of cranking up the heating or air conditioning to fight off the weather, some carefully designed and adjusted window shades can do the job without costing nearly as much in the long run. Certain materials and styles are specifically designed to keep heat from moving in or out, and putting them on a motorized cycle will ensure that you never have to worry about forgetting one or two in a large indoor space. Ask Santa Clarita Blinds & Shades about the best thermo-insulating options.
Get Your Products ASAP
Call us today and our team can be installing your new blinds and shades that much faster. All products are custom made and come with a five-year warranty. Give us a ring!