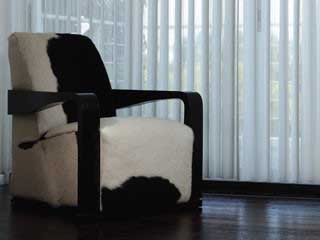 Vertical blinds are the perfect way to improve any property. If you're tired of having bright light shine through into your living room, and you want to control it more easily, then vertical blinds are the perfect solution. Unlike many other window coverings, it's easy to find vertical blinds for windows of any size. That means if you need vertical blinds for sliding glass doors, we can provide a perfect solution. We offer a dedicated range of window coverings including vertical blinds for patio doors, so you won't struggle to find something that works perfectly. All of our products are custom-built to your specifications. Find out what Santa Clarita Blinds & Shades can do for you. Contact us for your free in-person consultation at your address.
Low Prices For Motorized Vertical Blinds
For many Santa Clarita homeowners, adjusting their window coverings is a bit of a hassle. The temptation is to put up with a little bit of discomfort, especially if you would need to adjust several vertical blinds to keep out annoying sunlight. With our range of custom motorized vertical blinds, this is no longer an issue. Simply open or close your window coverings as much as you want, with nothing more than a touch of a button or a tap on your smartphone. This makes it easy to sweep open the blinds while you're still lying in bed, or even to make it seem like you're at home while you're on vacation. Contact our Santa Clarita motorized blinds specialists today to find out how motorized blinds could revolutionize your home.
Fantastic Range Of Vertical Blinds
We provide the best range of vertical blinds to anyone near Santa Clarita and the surrounding areas. In addition to offering a vast selection of different vertical window treatment options, including a full range of metal, vinyl, and faux wood blinds, we provide all the extra services you need. That means professional installation too. Our team offers vertical blind installation to ensure our custom made products last long past their warranty. All of our high-quality, low-price blinds can be customized to complement the interior décor of any Santa Clarita home or business. Why not invest in vertical blinds for your office windows? You'll keep your employees and customers alike in a comfortable condition, maximizing productivity and sales.
Affordable Custom Made Vertical Covers
We create custom vertical blinds, but that doesn't mean you need to pay top dollar for them. You'll find our range of amazing window coverings to be very affordable, with a price point that doesn't break the bank. Whether you choose vertical blinds with curtains or any one of our dozens of other options, you can be certain you're getting the best combination of quality and price. See our high-quality coverings in person when you schedule a free consultation at your Santa Clarita address.
Great Deals On All Our 2020 Vertical Blinds Collection
Any property can benefit from improved window coverings. Less dazzle and glare means more comfortable occupants, and when you can easily prevent people from looking in you'll feel much more secure. Get all of these benefits in a stylish package when you choose from our range of custom vertical blinds. Give us a call to book a free in-person consultation on vertical blinds anywhere in Santa Clarita or nearby.