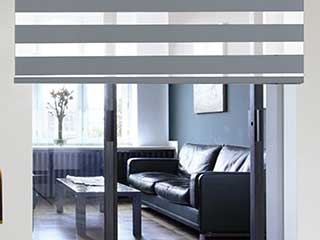 Layered shades alternate a semi-opaque material with a solid material creating a distinctive, classy look. They are available in a variety of colors, patterns, and materials to match any décor. Light and neutral color shades can add a subtle finish to a room. Bright or patterned blinds can add a pop of color to a room with neutral furnishings or floors. Layered shades can be the finishing touch for any room to which you want to add a unique set of window treatments.
How Do Layered Shades Work?
The basics of their design are simple. These coverings consist of two layers of fabric on a loop, with two sets of slats of contrasting colors. You adjust the shades as you see fit, and they filter or block sunlight accordingly. When the opaque vanes cover the sheer ones, you achieve complete privacy, and near blackout conditions (or full blackout even). When it's sheer over sheer, you allow sunlight to filter through, maintaining a great deal of UV protection through the fabric, but still benefiting from natural lighting.
What Rooms Are Layered Shades Good For?
Any room, technically. But if you want to be more specific, think about their versatility and decide whether this is important for the room you're thinking of or if shades with a more specific purpose work better. Layered shades tend to make for a great addition to dining rooms, kitchens and office spaces, where people usually want to have the option to alternate from fully visibility to privacy during different parts of the day. While some types of window blinds are designed with a specific purpose in mind, you're the ultimate decision maker and you can choose to use any type of window treatment anywhere you like. Of course, consulting with professionals beforehand is always advised...
A Truly Unique Window Treatment
The alternating panels that make up layered shades allow you to control the amount of light in the room. Darkening blinds are a great option for those who want even more light control. For large windows, hanging 2 separate blinds will make them easier to use and give you greater control of natural light in different sections of the room. If you're looking for a truly unique window covering option for your home or business, consider the versatility and unique design of custom made layered shades. Contact us at Santa Clarita Blinds & Shades to sit down with the nearest expert for a free consultation and learn about all the different options you can choose from.