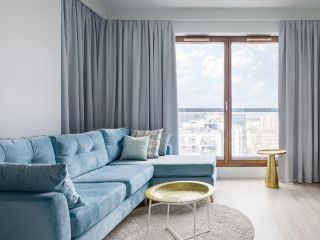 Are you in search of exquisite window treatments for your Santa Clarita home or business? Look no further than Santa Clarita Blinds & Shades! We offer a wide range of draperies and curtains, and we specialize in motorization using top brands like Somfy and Lutron for automation. Let us show you the advantages of choosing draperies and curtains over other window treatments.
Benefits of Draperies & Curtains:
Elegance and Style: Draperies and curtains bring a touch of elegance and style to any room, offering a timeless and classic look. Whether you're aiming for a cozy, sophisticated, or casual atmosphere, our wide selection can help you achieve your desired aesthetic.
Light Control: With draperies and curtains, you have complete control over the amount of natural light entering your space. Our blackout curtain options ensure you can create a pitch-black environment for uninterrupted sleep or movie nights.
Privacy: Enjoy your privacy without compromising on natural light. Our curtains and drapes provide the ideal balance between visibility and seclusion.
Energy Efficiency: Draperies and curtains act as an additional insulating layer, helping to regulate your indoor temperature and reduce energy costs.
Customization: We offer custom curtains and draperies, allowing you to choose the fabric, color, and style that perfectly matches your décor.
Expert Consultation: Our team provides a free consultation to help you select the right window treatment to suit your space, whether it's a residential or commercial setting, indoors or outdoors.
Professional Installation: Leave the hard work to us! We handle the installation of your chosen window treatments, ensuring a perfect fit and look.
Looking for draperies and curtains in Santa Clarita, California? Santa Clarita Blinds & Shades is your one-stop shop. We provide tailored solutions, making sure you find the perfect curtains or drapes for your needs. Contact us today for a free consultation and let us guide you through the process of choosing the best window treatment for your space.